Definition of an Internship
"An academic internship is a form of experiential education that integrates knowledge and theory in the classroom with practical application and skill development in a profession setting. Students can earn academic credit, or there is some other connection to a degree-granting, educations institution. The internship is usually the length or equivalent of an academic term, may be part-time or full-time, paid or unpaid. An integral component of the experience that distinguishes it from other types of work is one of more forms of structured and deliberate reflection contained within learning agendas and objectives." Collaboration of Internship Listserv members (Pittsburgh Technology Council & Messiah College), NACE, NSEE
Department of Labor and NACE Internship Guidelines
Department of Labor (DOL) Internship regulations
The internship, even though it includes actual operation of the employer's facilities, is similar to training that would be given in a vocational schools.
The internship experience is for the benefit of the student.
The intern does not displace regular employee, but works under the close observation of a regular employee.
The employer provides the training and derives no immediate advantage from the activities of the intern.
Occasionally, the operations may actually be impeded. The intern is not necessarily entitled to a job at the conclusion of the internship.
The employer and the intern understand that the intern is not entitled to wages for the time in the internship.
All employment/internship forms and applications required from the employer are posted in Lionslink system.
Top 10 Points to a Successful Internship-TBA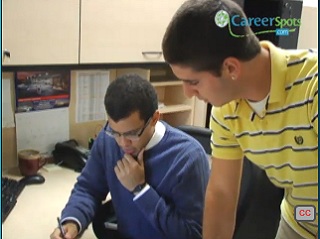 Make the Most of Internships
CareerSpots.com ©
Office of Records & Registration
 Paid and Non-Paid/Academic Credit
If an internship is non-paid the student should be receiving Academic Credit. Please note that if your internship is paid, a student may also receive academic credit, which may be a graduation requirement within their academic department.The Academic Department determines if the internship is meeting the requirements for credit. Upon approval by the Academic Department, students may complete the necessary forms found at Records & Registration. Non-Paid internships must meet the above criteria and will be reviewed by the Career Center Staff prior to placing in LionsLink, the online recruitment system.
Arts & Communications
Business
ACC 399 Accounting Internship Forms
BUS 399 School of Business Internship
Education
Health, Nursing, and Exercise Science
Humanities and Social Sciences
See HSS Resources tab-Coming soon
Other Student Experience Opportunities
On-Site Concerns
The Career Center is available to assist/counsel students experiencing difficulties at an internship site. Please contact the Career Center, x3111, and ask to speak with the Associate Director for Recruitment Services or email the Career Center at career@tcnj.edu for more information.